*Technical specifications:
Brand

XLB, or neutral

Model No

517/930

Dimension(d*D*T)

780X930X100mm

Weight

65.1kg

Bearing Material

Chrom steel, stainless steel, case-hardened steel.

Precision Rating

P0, P6, P5

Clearance

C0,C2, C3, C4, C5

Packing

Neutral industrial packing:
plastic bag+kraft paper+carton+plywood pallet;
plastic tube+carton+plywood pallet.


Or as your requirements.
*Characteristics and applictations:

Thrust Ball bearing consists of the washers with raceway and the assembly of ball and cage. so that this type of bearing is separable and mounting is simple. And the contact angle is 90 degree, the bearings can only carry axial load, but not be subjected to any radial load.
While the bearings runing, the balls are extruded to the outside of raceway by centrifugal effect and easy to be scraped. So this type of bearing can not be used under the high speeds condition.
The single direction bearings can only carry axial load in one direction, while the double can carry alternating axial load in either direction. And the trust ball bearings with spherical outer ring have self-aligning functions.
Thrust ball bearings are used in lathe centers, automobile clutches, reducers and so on.

*Xing Lun Bearings Group Limited:
Xing Lun Bearings Group Limited was established in 1995. Now we are one of most leading professional manufacturers of widest range of balls and roller bearings.
To meet our customer's demands, XLB have built 4 plants in Dalian and Zhejiang to produce tapered roller bearings, cylindrical roller bearings, spherical roller bearings, slewing rings,deep groove ballbearings, angular contact ball bearings, self-aligning ballbearings, thrust bearings, ceramic bearings, plastic bearings, stainless steel bearings, automotive bearings, needle bearings, pillow blocks and machinery parts, etc.


We have complete process for the production and quality assurance to make sure our products can meet your requirement.
*XLB certificates:
ISO9001:2008 standard, ISO/TS16949:2009, GB/T 19001-2008/ISO 9001:2008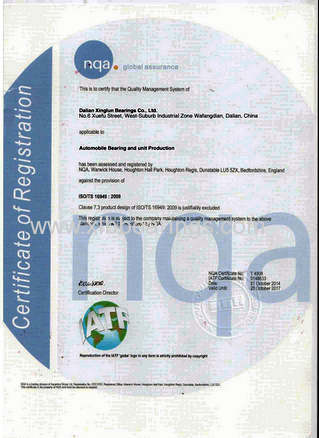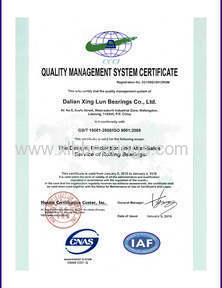 *What XLB supply:
Item no.

Size(mm)

Weight(kg)

d

D

T

51705

25

45

14

0.0917

517/26.2

26.2

96

21

0.345

517/36.8M

36.8

53.8

12

0.089

51708

40

100

28

0.97

517/42

42

58

12

0.116

51709

45

68

16

0.201

517/48

48

96

35

1.38

51710

50

74

18

0.25

517/53

53

72

15.5

0.215

517/57

57

74

17.4

0.223

517/58

58

120

64

3.69

517/71.5

71.5

93

21

0.445

51715

75

128

41

2.18

517/78

78

98

15

0.298

51720M

100

172

57

6.02

51720

100

172

57

5.36

51730

150

200

35

3.15

51746

230

300

53.4

9.47

517/238

238

340

70

19.4

51762

310

360

42

7.31

51770

350

476

85

43.3

517/368M

369

529

131

105

517/84

420

550

80

53.6

51791

455

650

120

131

517/630

630

810

100

126

517/696

696

790

62

31.95

517/780

780

930

100

129

517/800M

800

920

100

112

517/930

930

1040

55

65.1

51760V

300

432

104.8

49.75

51773V

365

475

95

40.1

517/42.6V

42.6

96

39.05

1.398

517/72V

72

128

40

-

517/330V

330

380

53

-

517/590V

590

670

65

40

517/708V

708

950

92

190

51706VD

30

50

14

0.077

51709VD

46

63.9

7.44

-